Rule the tailgate scene with these touchdown recipes
The season is here! The season super fans wait for all year, to cheer their team on (to victory!) and of course, eat some of the best food out there – tailgate food! Our friend Chef Billy Parisi came up with some delicious, game-changing tailgate recipes for your next tailgate and while we can all hope for an undefeated season, we all know you win some and lose some – and with these recipes, you'll only be winning!
Southwest Bacon Wrapped Egg Muffins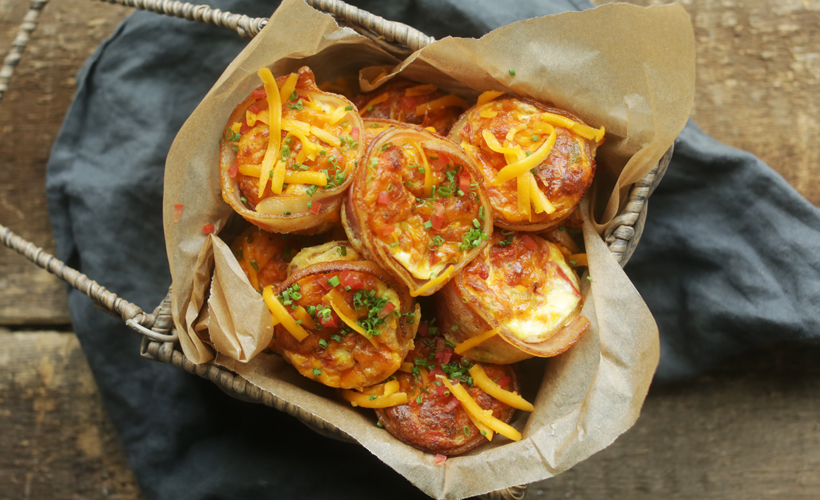 Whether you are the 6:00 a.m.-er, or the casual tailgater – everyone needs a great breakfast before the big game! Add bacon in a muffin tin and par-bake until lightly crispy, pour a mixture of eggs, cheddar cheese and zesty tomatoes and bake until eggs are cooked through. Enjoy and tailgate on!
This scrumptious sweet BBQ Chicken Dip is just as easy to make as it is to eat! In a slow cooker place cream cheese, shredded rotisserie chicken and your favorite BBQ sauce; set it to high and wait until blended. Next, cut out the center of a loaf of sourdough bread, pour the dip inside, load up the cheese and bake until melted. This dip is a touchdown in our book!
Philly Cheese Steak Stuffed Italian Bread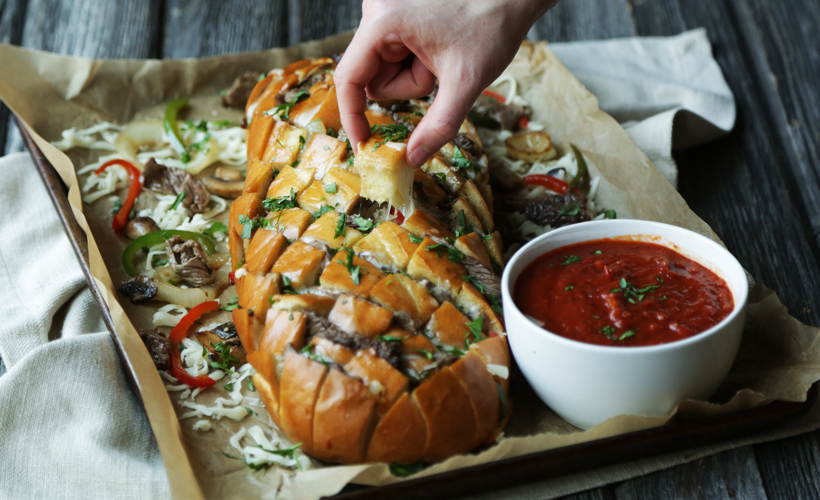 This easy-pull appetizer is perfect for a large crowd. The bread is stuffed with onions, peppers, mushrooms, provolone cheese and thinly sliced New York strip steak – served with a flavorful marinara sauce. Now that's a crowd-pleasin' app, if we do say so ourselves!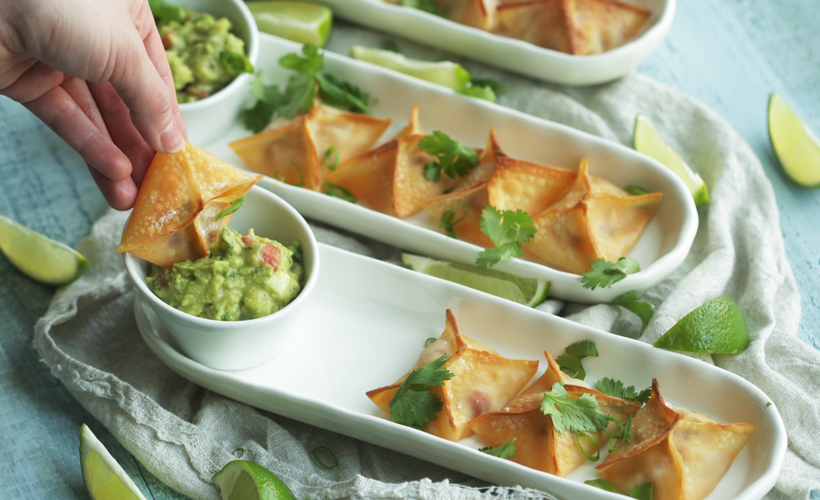 You haven't seen anything like this! Slow cooked chicken in zesty tomatoes and chilies are stuffed in won tons, baked and dipped in guacamole. Yeah, we went there!
Grilled Potato Salad with Mustard Dressing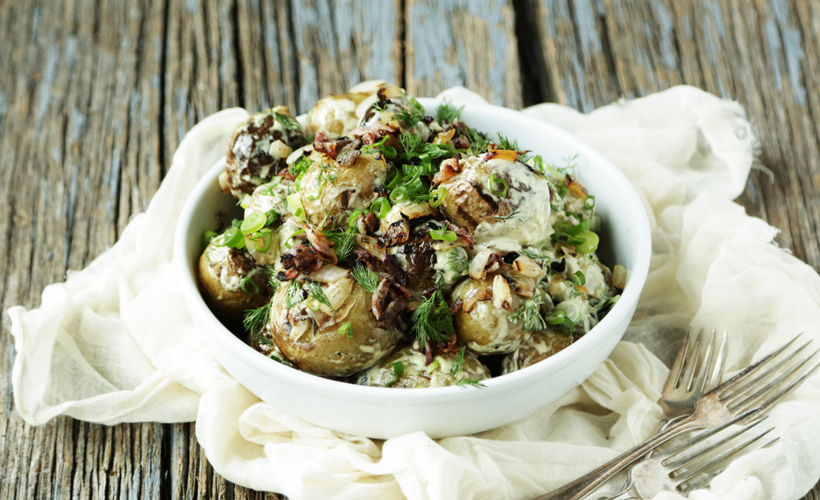 Add a depth of flavor to your potato salad by grilling the ingredients! Grilled potatoes, grilled onions and grilled bacon (yes, grilled bacon!) are the key components for the chard spicy mustard potato salad. We bet this will be the best potato salad out of all the tailgaters'!
Pull Apart Bread with Chorizo Queso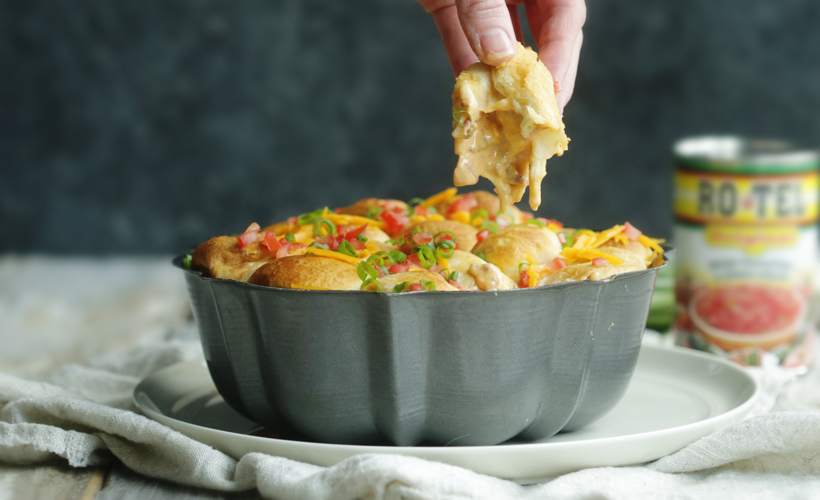 A spicy cheese mixture rolled into buttery crescent dough and baked – hello flavor explosion!
Whether you're a fan of the team or a fan of the tailgating experience – this will surly get you in the football spirit. A zesty cheese ball covered in chopped chorizo salami shaped into a football and served with crackers, veggies or chips. It's that easy!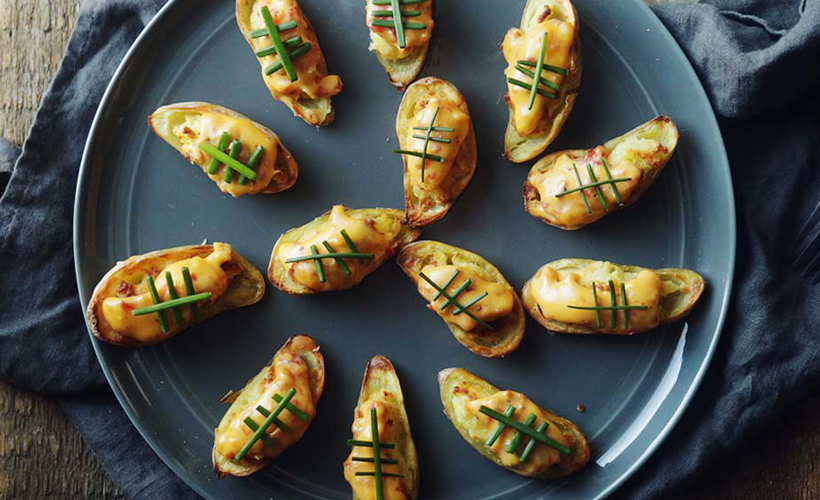 What's a tailgate without a twice-baked potato? These bite size twice-baked fingerling potatoes are topped with a velvety queso mixture including bacon, zesty tomato and green chili mix and pasteurized cheese. Holy deliciousness!
What's football without bacon? And what's a tailgate without a bacon dip? This an easy stuffed bread bowl with bacon, tomatoes, green onions and cream cheese all wrapped in foil and placed on the grill until the center becomes creamy!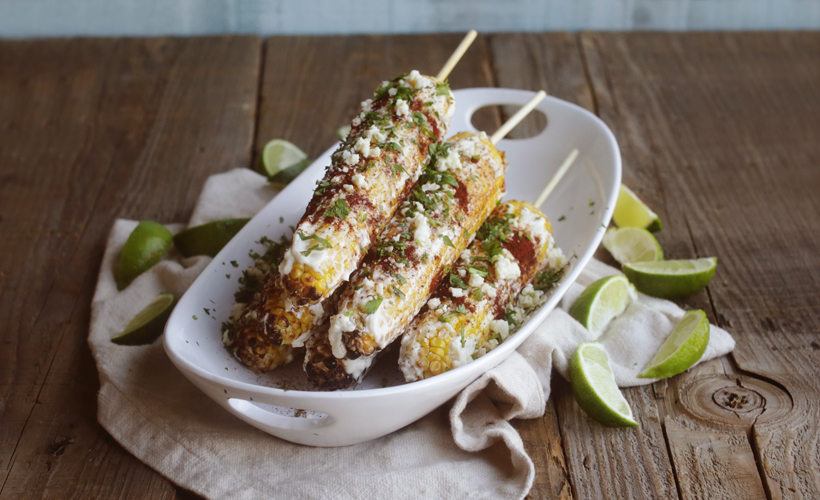 An easy tailgate tip: grill corn on a stick! This is easy to hand out and easy to eat! Grilled corn smothered in Mexican crema (or, mayonnaise), sprinkled with salty cotija cheese, chili powder, lime and cilantro. Mic drop!